Wow… I can't believe that on this date 29 years ago I was forcefully coming out of my mother's vagina. As I sit back and reflect on my life I have no choice but to be thankful. First obvious thing to be thankful for is I'm alive and that's super cool…but It's the knowledge I've attained, the degrees I've earned, the solid group of friends I'm among, the crazy but loyal family I have, the no diseases, no babies, I even have abs now...That in itself deserves appreciation. I'm living in the city of my dreams pursuing my dreams.
Yo, life is Lit!
Now, I admit…I've been a little hard on myself this year. Moving to a new city, starting over from scratch is no easy lay.
Working two jobs and still not making ends meet is one thing but having two jobs in L.A. riding public transportation has got to be what a glimpse of hell feels like.
Don't forget the extra pressure I put on myself so I can prove to everyone I can do this. Trust me, it's a headache trying to please everyone for the likes.
This year I put my experiences working for TV studios, connecting with different people, auditioning for shows, performing stand-up all on the back burner why, because in my pot filled head I don't have a series on television?  Mannnnn, F*** that.  I literally collected a group of thirteen strangers and finessed them into making my pilot episode for weed and food.
I'm Magic Af!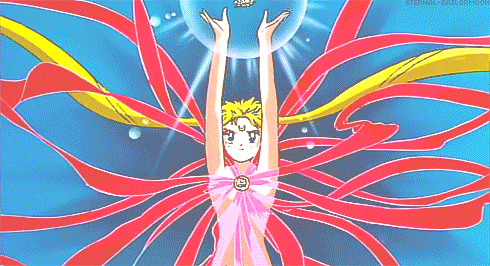 I just have to use my magic powers with no fear and no regrets. Like Sailor Moon in the third season.
I think it's okay I'm hard on myself because it keeps my eye steady on the prize This comedy writer game ain't for the weak. The politics, the ex-vine stars, the cliques. I have a lot more work to do. At almost 30 I'm ready to push hard for what I want. Only took three decades..
I must  stay fateful and trusting in myself and the big guy/girl up stairs that this journey though it may be filled with twists and turns; is my journey. Nobody else's.
I'm glad God is giving me another chance at life so I continue pursuing this crazy dream.. Because other than  peace on Earth, Trump out of office, legalized marijuana I just want to write comedy and be really good at it. 
Today, I celebrate my life, my experiences and all that is to come. Today, a Hippie was born.