Another summer in Los Angeles. Lately, it's been hot as the Devil's butthole. I love it, however Some L.A. residents aren't taking it so well. Can the heat control your sanity?Like, it wasn't pleasing to my eyes to see a grown woman laying on the streets of Downtown L.A. butt ass naked, or the racist outburst from the 7-11 clerks yelling that  "All black people are the same" because a black dude stole a soda, let us not forget the pile of dog shit I accidentally stepped into barefoot…All this happened in a matter of one week by the way.  I've been living in Los Angeles for two years and still, I am surprised by my life happenings.
After months of being financially disabled, missing my closest friends weddings and baby showers, dodging my landlord, I'm actually making strides back to the lit Christina…the one who always had big dreams with ambition and faith to make them happen. I quit my 9-5 over a year ago. It has its ups and Lord knows it has its downs. I had to take a step back and reflect on this new found free time. Within my reflection time I realized I'm an entitled, spoiled only child who lacks discipline and has no hustling mentality. When everything has been practically handed to you your entire life and then suddenly you're out in the world alone to fend for yourself, you may experience a bunch of bullshit along the way.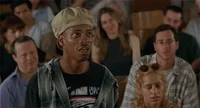 However, to say I haven't done anything with my chosen freedom would be a lie. I signed up for Lyft a ridesharing app where I have to uncomfortably drive people around in the backseat of an overpriced rental car. I drive enough just to make my car payment most weeks. You can't tell me there's one Lyft driver who's excited to drive for Lyft. I'm grateful to finally be able to get around the city without stepping on to the piss & shit aroma the metro bus offers but driving for Lyft sucks balls. It also doesn't help that I don't really know how to navigate the city and I'm a pretty average driver considerably.
I didn't move all the way to L.A. to chauffeur people around. I also didn't move out here to become a teacher but within this free time I found a love and appreciation for Yoga; specifically Yoga Barre– a ballet, cardio, upbeat, lit af class that has transformed not only my body but my mind. I enrolled in Yoga Barre training with hopes to finally get some abs but in the end I'm now a certified instructor guiding others to find love for their bodies at three different Hot Yoga studios. It feels amazing, to just be able to express my personality and have fun with a group of diverse individuals. I'm falling in love with teaching and I'm looking forward to expanding my knowledge and practice. Now…As for Loud! The Musical (which you can find on youtube here's the link:  Loud! The Musical
Loud, is my first visual content released to the world wide web. I wrote it, I produced it, I acted in it and I even directed a couple scenes. Yo, this shit is hard. I love it so much it frustrates me. When things aren't perfect which really means when things don't go my way I overthink, over criticize but undermine my abilities to make this happen.  I know what you're thinking…"Keep believing in yourself, keep pushing" I get it and I am. Right now though, I need a mental break from this whole trying to break into the industry thing. I really just want to focus on me…and Yoga…and weed.
So stay tuned and Namaste.