Written live from her cozy, danked out bedroom for the World Wide Web. Welcome ladies and gentleman to  That Hippie is Lit! 
Happy New Year, most importantly Happy Black History Month!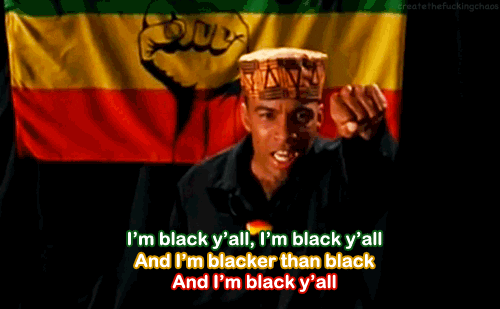 Don't forget to be relentless, proud and  apologetically Black this month. It's important. The Europeans gave us 28 days (sometimes 29) to act up and act up we shall do. At least I know I am. I spent the last long af month, frustrated, anxious and low-key depressed trying to figure out what's next. I almost lost sight of why I'm living  in L.A. I mean, this is the city I've been dreaming of for years how dare I be in constant questioning and confusion.
I'm tired. Tired of making excuses for myself, tired of being tired and lazy, tired of not going hard enough while I sit back and watch my comedy peers on Instagram, climb their way to success. Sidebar, it's also super strange living in a world where majority of my friends are starting families and I'm just starting my life.
Let's be honest, I had no focus last year. Hustling PA jobs, working two jobs for the man, co-hosting a podcast, blogging, shooting a pilot, making music. I was everywhere but nowhere at the same time. Yes, in my head I'm Sailor Moon and yes sometimes I exude that energy but even Sailor Moon took time  to make a game plan. She loved saving people, saving the Sailor Scouts, saving Tuxedo Mask. It was her moon given gift to share love and create hope for everyone. My gift is my ability to create art. My ability to speak and have this odd, unique voice that no one has but me. I have something to say with the expectancy that it will bring hope to others. Don't tell anyone this but as an only child I feel like I'm meant to be alone. When I write stories and share it with others I feel a sense of togetherness and understanding. I guess that means this is what I'm meant to do.
Giving up is not an option, neither is being comfortable with mediocrity.
So listen, I'm going to take this stand-up comedy thing seriously this year. I know, I know I keep saying it but for real,  I spoke to some L.A. comedy legends over the Christmas break. I met them at this Wig-mas party. (A Party where everyone has to wear wigs) Anyway, they inspired me. These middle-aged white men told me the realist shit when it comes to this comedy game. I soaked it all up and I'm ready to relinquish it to this city.
I don't know if it's because I dated all those stand-up comedians in the past, or the rush I get when I'm on stage  while people laugh at my jokes but I'm gonna give it a real shot. Like perform three nights a week shot, like, instead of spending $5 on milkshakes I'll spend it on open mic's type shot. Like, gotta take the bus home from the comedy club because the Uber cost too much shot. Because, yes I came out here for comedy writing but out here I can be anyone and do anything I ever thought was impossible. My mind was so closed, thinking it's comedy writing or death!
I, That Hippie is Lit can be who I want to be, especially while I'm on stage. Plus, I'm way funnier than the comedians I dated in the past and they aren't doing too bad for themselves.
So, come see me on stage one night…Don't worry, I'll continue to write stories. I actually want to knockout a couple screenplays this year. Oh and I just got a hosting gig for an open mic at this vibey, vegan- friendly cafe. I'm curating as well so no pressure right?
I'm excited to be here again. The fact that its 85 degrees in February helps. I'm going in to my second year living in Los Angeles with  a couple bruises and a strained neck muscle (long story)
I'm also going into my second year with faith, hope and the desire to work for my dreams. No hold backs.
Stay Tuned.